World class neurological development
The key to achievement is balance
The basis of good school, work and sports performance is the balanced functioning of the neurological system. Our developed biotechnological method improves concentration, balance, mood and performance with both child and adult enjoying the programme.
What can we help you with?
What is Neurotrain good for?
It is a classic problem when a child's performance is below their potential. Their mind is sharp but they cannot concentrate, they are absent-minded, unable to focus their attention on a single task.
It is a similar case when the solution of complex tasks is ineffective. Another classic example of performance problems at school is dyslexia. Parents are looking for a method which is effective, time-efficient and acceptable to the child.
There comes a point when your child is not simply lively. There are more and more complaints in school or other communities. The child is an energy bomb at home as well, impossible to discipline, nothing can hold their interest.
ADHD is a classic challenge for both the child and the family. The opposite might occur as well. The child does not want to socialise at all, starts developing awkward habits, maybe has already become a recluse. These might be characteristic of adolescents and adults as well. An effective solution would be ideal.
A surprisingly great number of adolescents and adults are affected by depression, but it is getting more and more frequent in childhood as well. COVID has raised the number of cases of depression in two ways. Firstly, many who have recovered from the disease have experienced post traumatic depression, but an even greater number of people become depressed because of being locked in their homes, loneliness and fear.
Not only psychology, psychotherapy can help with treatment but also methods which strengthen and develop the neurological system.
Enhancing performance at work
Working behind a desk, stress, continuous concentration, the lack of movement and the blue light of the computer screen can eventually bring about concentration disorder, a drop in performance and burnout.
It would be ideal to have a form of training that playfully works the nervous system, refreshes it and gives it back its momentum. A kind of Neuro-Gym would be the best, something that gets the mind into shape again.
Enhancing performance in sports
Physical training develops the body and successfully enhances performance, but still, there are cases in which the expected success or breakthrough does not happen. A reason for this might be that the functioning of the body is asymmetrical. One punching hand, jumping leg, or some movement pattern does not develop as we wish for it.
A loss of balance in the neurological system can be behind the asymmetrical functioning of the body's muscular system. This loss of balance can even cause problems of concentration. The development of a Neuro-Gym can restore the lost state of balance which enhances performance. This development has great significance in e-sports as well.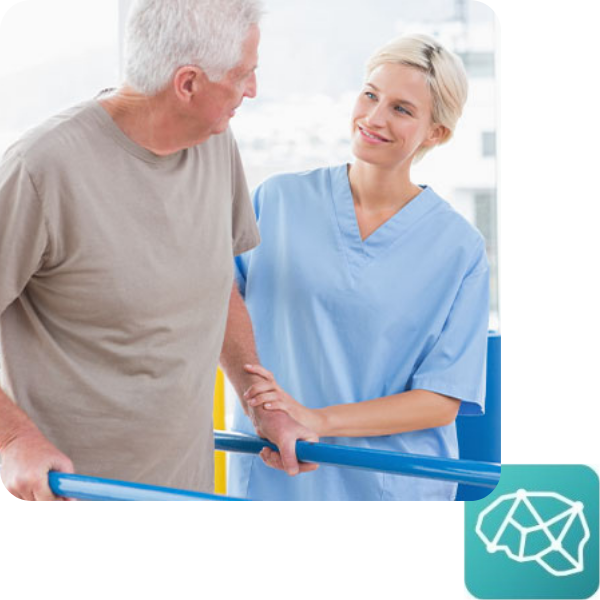 Rehabilitation after accidents cannot stop at the level of physical physiotherapy. This is especially true in the case of head trauma.
Part of retuning the body is restoring the neurological balance. Neurological rehabilitation can be a preventive and therapeutic tool in case of dementia and Alzheimer's disease as well.
Come and see us on a personal consultation!
Bring out 100% of everything you put your mind to! Achieve your school, work or sport goals without stress or anxiety!
Get to know the Neurotrain programme
Neurotrain is special because of the holistic approach. There are numerous methods that effectively develop one of the areas treated by us, but with their simultaneous treatment we achieve much better results than with treating them one by one.
The leading principle with the therapy is to achieve the best effect in the shortest time possible, preferably so that the patient finds pleasure in it as well.
Functional Disconnection Syndrome (FDS) means that the nervous system gets off-centre. This loss of balance of the nervous system can be connected to numerous areas, meaning that a successful therapy can result in multi-faceted improvement. This drifting out of tune is very often accompanied by a basic reflex that "got stuck", that is an active reflex which did not get integrated in the appropriate phase of infancy.
This is a constant burden on the nervous system that stimulates the sympathetic nervous system, keeping up a constant level of stress. Genetics can be a factor but not a determining one.
Epigenetic research proves that we can change a great number of influential factors. So a drastic change in lifestyle and stimulus patterns can give hope in the case of symptoms believed to be incurable so far.
Several ten thousands of children and adults could be helped world-wide with the treatment concept of FDS. ADHD, autism spectrum disorder, dyslexia, depression, rehabilitation after accidents, chronic pain, sleeping disorders, sport performance enhancement, are all among the treated conditions, what is more, the treatment of problems of the immune system can also be expected.
The definition of a healthy nervous system has become clear in the recent decades, but the techniques dedicated to this were developed only a few years ago. According to the newest models, all types of stimuli can have a positive effect on the healthy development of the nervous system. Visual, kinetic, cognitive, auditive and emotive.
A group of researchers in the USA (Neurosage™) started thinking about how the virtual world, console games and the most effectively stimulating technologies can be combined and used to serve the health of the nervous system. This is how NeurosageTM was born, a tool which became used in surgeries world-wide as part of the protocol in neurological treatment. Neurotrain is among the first surgeries where this is available in Europe. We have added the elements of sleep, supporting muscles, breathing, stress and lifestyle to this technology.
Who is the Neurotrain technology suitable for?
Those who have been repeatedly disappointed by symptomatic treatment.

Those who know that there is a connection between their lifestyle and symptoms.

Those committed to improving themselves and their health.

Those who are looking for a real, long-term solution to their problems
Who is the Neurotrain programme not suitable for?

Those who think our health does not depend on our habits.


Those who do not want to change their bad habits.


Those who hope there is a magic pill for health.


Those who do not want to take responsibility for themselves.
How does Neurotrain differ from other methods?
| | | | | | | |
| --- | --- | --- | --- | --- | --- | --- |
|   | Neurotrain | Neurologist | Physiotherapist | Speech therapist | Health coach | Psychologist |
| Cognitive development | | |   |   |   |   |
| Posture correction | |   | |   |   |   |
| Developing secure nose breathing | |   |   | |   |   |
| Improving quality of sleep | |   |   |   | |   |
| Improving well-being | |   |   |   |   | |
| | | |
| --- | --- | --- |
|   | Neurotrain |   |
| Cognitive development | | Neurologist |
| Posture correction | | Psychoterapist |
| Developing secure nose breathing | | Speech therapist |
| Improving quality of sleep | | Health coach |
| Improving well-being | | Psychologist |
The steps of the programme

Diagnostic session, where we assess the areas affecting the nervous system: body image, breathing, airways, disposition, psychosocial health.

Consultation, during which our team of experts presents you with the results and the plan of treatment. 

Following this the treatment begins. The appropriate package is chosen by you and us together according to your goals and the results of the examinations.
Having finished the chosen programme, we evaluate the results together with the patients. 
Prices of Neurotrain programmes
Duration of the programme:
12 weeks
Duration of the personal session:
45-60 minutes
Who is it recommended to?
This is advantageous for those who live far from the surgery or try to avoid physical encounters during the COVID pandemic or are looking for a financially more advantageous alternative.
Price:
Instead of 255.000 Ft only 199.000 Ft.
This package mainly builds on practicing at home. It contains all the elements required for the development of the brain hemisphere, basic reflex integration, breathing training and improving the supporting muscles of the body. After 2 intense tutorial sessions we devote a session to checking the exercises. These are personal meetings. After that, however, practicing at home follows. On the 6th week there is an interim check up in the form of a personal meeting, and then on the 12th week there is the closing meeting where we summarise the change. When there is a personal meeting, biotechnological development is also part of the session. Personal sessions are 45-60 minutes.
Duration of the programme:
6 weeks
Duration of the personal session:
45-60 minutes
Who is it recommended to?
Our standard programme is primarily recommended to those patients who prefer taking part in personal sessions and travelling is not an issue for them.
Price:
Instead of 405.000 Ft only 319.000 Ft.
This programme uses all the elements of intense development. There are sessions twice a week, 45-60 minutes each time, and we use almost the complete arsenal of modern functional neurology in order to reach success. The programme is 6 weeks long, at the end we summarise the progress made. If it is necessary, there is a possibility to switch to the Plus. programme.
Duration of the programme:
12 weeks
Duration of the personal session:
45-60 minutes
Who is it recommended to?
Our Plus programme is advantageous to those patients who suffer from a multi-faceted, complex problem and are quite motivated in finding a solution.
Price:
Instead of 705.000 Ft only 599.000 Ft.
The signature programme of Neurotrain. During its three months there are two sessions every week. These sessions are 45-60 minutes and in order to succeed we use the complete arsenal of modern functional neurology. Both the intensity and the programme's length ensures that we reach the desired goal. On the 6th week there is an interim testing, and then on the 12th week, at the end of the programme we summarise the results.
Neurotrain Extra ticket for 5 occasions
Price: 90.000 (18.000/occasion)
Neurotrain Extra ticket for 10 occasions
Price: 170.000 (17.000/occasion)
Neurotrain Extra ticket for 20 occasions
Price: 320.000 (16.000/occasion)
Neurotrain is part of the Dr. Hermann Brand, so our clients can expect the team already familiar from HermannOrtho and their expertise. When assembling our team for Neurotrain, our goal was for them to be able to help with improving the quality of breathing and sleep, as well as neurological and skill development. Our team consisting of special education teachers and physiotherapists are under constant training and are experienced in passing on the different elements of Neurotrain.
Dr. Gábor Hermann
Orthodontics
Hanna Boglárka Schuszter
Psychotherapist, speech therapist
Mariann Csányi
Psychotherapist
Póta Violetta
Receptionist
Frequently asked questions
There is an extraordinary number of methods for development. These are typically based on a single big discovery and are aimed at developing a certain area. They either integrate the remaining basic reflexes or they improve cognitive skills or a certain part of the brain, or they do their best to get the two hemispheres of the brain in sync.
All of these can be successful to a certain degree but still many patients feel that they have not made improvements in other areas and, all in all, the great breakthrough has not happened.
Neurotrain is special in 3 different ways. First of all, it approaches in the most complex way possible. It does not only affect the basic reflexes or harmonizes the two hemispheres of the brain. It works on these simultaneously and breathing training and supporting muscle development is also added to all of this. Its second specialty is that it is not simply about the harmonization of the two brain hemispheres. It specifically develops the brain hemisphere which is lagging behind and as such is the main source of the problem. The third thing special about it is that it applies the newest technology. Biotechnology not only makes the method effective, but it also gets both children and adults in the right mood.
A lot of the methods of development last for months on and do contain a lot of unifacial exercises. Both children and adults can get weary of this. At the same time, if we are able to combine several methods and to determine the area we are working on in a more targeted way, then we can significantly shorten the programme. Neurotrain programmes are usually 3 months long, but there is a 6 week possibility as well. And everybody can choose to their liking. Some prefer practicing at home, others would like a super intense training. Biotechnological games do make training versatile, it is unlikely for anyone to get bored of it.
Yes, functional neurology and FDS are very successful in its treatment. Brand new clinical research has proven the success of the method in treating ADHD.
Monday, Tuesday, Wednesday, Thursday: 14:00-19:00
Friday: 08:00-12:00
1036 Budapest, Lajos utca 91. 3rd floor /1.